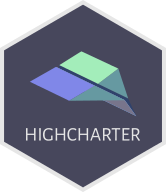 Stocks with highstocks
Joshua Kunst
2022-11-23
Source:
vignettes/stock.Rmd
stock.Rmd
The highcharter package include highstocks libraries from highchartsJS to create stock or general timeline charts. Features sophisticated navigation for high-volume data, user annotations and range selectors.
Basics
Highstock work well with the quantmod package. It's easy chart symbols using hchart(). Then you can add more series using hc_add_series().
Obviously you can use the implemented API functions to edit the chart:
Candlestick and OHLC charts
If you want to chart more symbols in you can use the hc_add_series() function. Don't forget to specify type = "stock" to activate the navigator, range selector and other features of highstock.
Flags
Previously we used the id parameter. This is necessary to add flags to relate series and flags:
## Rows: 5




## Columns: 3


## $ date  

<date>

 2016-10-12, 2016-12-20, 2015-11-04, 2009-02-03, 2007-10-10
## $ title 

<chr>

 "E #1", "E #2", "E #3", "E #4", "E #5"
## $ text  

<chr>

 "An interesting event #1 in 2016-10-12", "An interesting event …