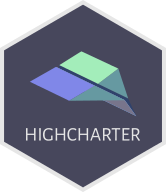 Changelog
Source:
NEWS.md
highcharter 0.9.4
CRAN release: 2022-01-03
Changes
Highcharter now uses HighchartsJS 9.3.1.
Support highcharts gantt extension (#287).
Adding missed language options in getOption("highcharter.lang").
Adding hcpxy_add_series, hcpxy_remove_series, hcpxy_update, hcpxy_update_series, hcpxy_add_point, hcpxy_remove_point and hcpxy_loading.
Adding hcpxy_set_date and hcpxy_redraw thanks to @PaulC91.
Adding hc_loading for use with hcpxy_loading.
Adding hcpxy_update_point due @zevross (https://twitter.com/zevross/status/1403394816558383105).
Update jQuery from 3.5.0 to 3.5.1. This solve the problem in flexdashboard menu when the size of viewport is small (like tables o phones).
Adding new data mountains_panorama.
Update pokemon data.
Bugs
Fix url in documentations via devtools::check_rhub().
Removing knitr.figure = FALSE option in sizingPolicy = htmlwidgets::sizingPolicy to fix #703
highcharter 0.8.2
CRAN release: 2020-07-26
Changes
Highcharter now uses HighchartsJS 8.1.2
Adding data helpers to make easy certain type of charts: data_to_boxplot, data_to_hierarchical and data_to_sankey. Thanks to @wwwjk366.
Adding list to hchart supported classes to work with the new data helpers.
Adding hc_theme_sparkline_vb, hc_theme_hcrt themes.
boost module is FALSE by default.
Modifying highcharts_demo(), adding caption and credit texts.
All vignettes were moved from the package to favor to avoid CRAN check NOTE and warning. The content was moved to the new website of the package.
htmlwdgtgrid.css were removed from the yaml of highcart hchart widgets to avoid problems with others css frameworks when highcarter is used with shiny. Now hw_grid add htmlwdgtgrid.css automatically. Additionally hw_grid gain new parameters: 1) add_htmlgrid_css To add or not htmlgrid.css and 2) browsable -set as TRUE the default value- so now there is no need to use htmltools::browsable #622
Adding new hc_add_yAxis. Thanks to @nordicgit70.
Added option to switch to rjson::toJSON for better plotting performance. To use execute options(highcharter.rjon =TRUE). See #613. Thanks to @nordicgit70.
Deprecated
hc_add_dependency_fa, fa_icon, fa_icon_mark, please use fontawesome package https://github.com/rstudio/fontawesome. See examples in the new website.
hciconarray, please use now type = "item"
hcspark, please use hc_theme_sparkline
hctreeemaps, hctreeemaps2, please use data_to_hierarchical.
highcharter 0.8.1
Changes
Highcharter now uses HighchartsJS 8 (8.1.0).
Highcharter now uses jquery v3.5.0; previously used is v1.11.1
Fix warnings for numeric vectors with multiple classes (@nuno-agostinho, #635)
highcharter 0.7.2
Changes
Highcharter now uses HighchartsJS 7 (7.2.0) thanks to Daniel Possenriede (#552).
highcharter 0.7.1
Changes
Adding hc_theme_bloom based on Bloomberg Graphics.
Removed shortcut functions: hcts, hcbar, hcpie, hchist, hcdensity.
Removing whisker package dependency (#415).
Bullet chart is supported. Added bullet.js module to highchart.yalm (#482).
Add parameter quiet to download_map_data. Thanks to @DavidBreuer (#450).
highcharter 0.3.1.9999
Adding underscore dependency (previously was removed. Solves #28)
highcharter 0.3.0
CRAN release: 2016-03-28
Igraph support to hchart (#61)
New function export_hc. Take a highchart object and write a js file with the options (#60).
New function tooltip_table. Helper to create table based in tags from htmltoolspackage #59).
New function hc_colors. Function for the colors option in highcharts api (#57).
Adding funnel.js and gauge-solid.js to dependency for create funnel charts and charts like apple watch (#56).
The hc_themes_... functions gains a ... parameter to add styles to the current invoked theme (#53).
More themes: flat, flatdark, smpl, ft (financial times) (#49).
Don't run error (\dontrun{}) to avoid quantmod package example in flags function
highcharter 0.2.0
CRAN release: 2016-02-25
Implemenation of highcharts with boost module highchart2() (#43). This include highcharts.js, exporting.js and boost-module.js.
Highstock implementation/support (#10)
Highmaps implementation/support (#25)
In highmaps prevent scrolling when cursor is over the map (#38)
Import %>% (#15)
Heigth scale in the container in rstudio IDE (#14)
Avoid duplicate css calls (#6)
Add uscountygeojson, usgeojson, worldgeojson, unemployment data